Close out the day at Sundowners, for those pre or post dinner beverages. A couple times a week enjoy live music entertainment with our guitarist and singer. The bar provides a welcome range of tropical cocktails and other beverages before retiring back to your rooms for the night.

Lunch, Dinner, light snacks and beverages
Reservation recommended for cabona dinner
10 am – 10 pm or unit last guest leaves
Dine around the pool or on the beach in the open air on our sun loungers

Also, You can enjoy
Thai & Western cuisine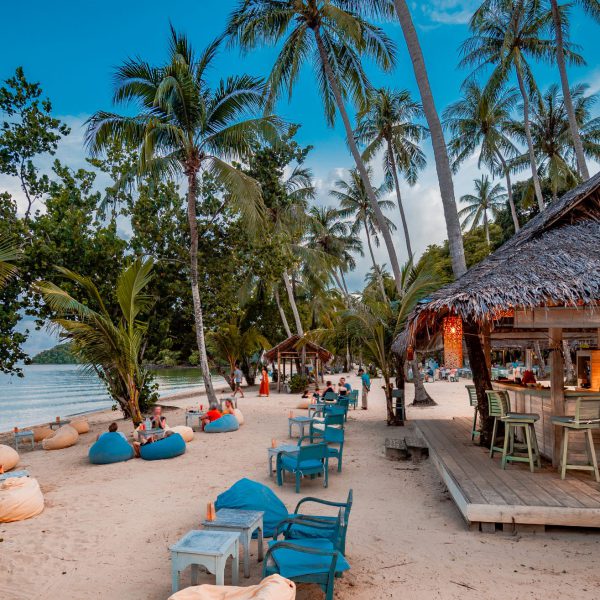 you will enjoy an outstanding array of Thai & Western cuisine, paired with a choice of good quality, international wines. As implied in the restaurant's name, great variety of fresh seafood is also on offer, as are various themed buffets to complement the tasty à la carte menu.
• • Dining Hightlight • •
Start your day with our breakfast buffet, exceptional coffee & freshly baked breads in the Seafood Terrace. Our extensive breakfast buffet opens every morning at 7:30 am. On offer is an array of fresh tropical fruit, home-made yogurt & bread, fresh-baked croissants & pastries, pancakes, French toast, cold cuts, salads, cheese, cereal, potato variations, bacon, sausages & beans, Asian style breakfast items, a variety of fruit juices & fresh espresso coffees; as well as our famous egg station, where the smiling chefs brighten your morning with your choice of egg options. A breakfast spread that satisfies every taste & a provides a perfect start to your day in Paradise!
Special Offers & Theme Nights
In addition to our à la carte menu and chef recommendations, our 'Special Promotions' are featured on the notice-board as you enter the restaurant. The Seafood Terrace also hosts themed buffet nights at least three times per week, such as Seafood BBQ, Thai Night, Japanese Night, Wok Fried night, and others. A dedicated lunch menu gives you the choice between Thai dishes, salads, sandwiches, pizzas & snacks, and also watch out for special lunch promotions, like Thai-style noodle soup carts and roaming food stations.